Dr. Miguel Montalvo Reviews
Dr. Miguel Montalvo is one of the best bariatric surgeons in Tijuana, Mexico. Patients consistently applaud his transformative impact on their lives, citing his surgical expertise, compassionate approach, and unparalleled results. Dr. Montalvo goes above and beyond to guide patients through their journeys, offering personalized solutions and unwavering support. His reputation as a pioneer in bariatric surgery is echoed in the numerous success stories shared by those who have undergone his care. He makes his patients feel comfortable and empowered throughout the entire process, from pre-operative consultations to post-operative follow-ups. Dr. Montalvo's commitment to combining medical proficiency with genuine compassion has solidified his status as a trusted figure in the field of bariatrics.
Ana- 7/23/2020

"BEST DECISION EVER……
Dr. Montalvo
"
SW: 190 lbs
CW: 130 lbs
Lisa- 1/7/2023
"Wow! What a difference from last year! Sleeved Jan 7, 2023. I have more energy and confidence. I'm finally loving my life again!"
Shelby- 3/3/2023
"Just do it!! I can not explain how thankful I am to Dr. Montalvo for giving me my life back. I've been struggling with my weight since I was 18. I'm starting to love myself again finally at 27 years old! Being able to enjoy playing with my kid without pain and being out of breath is just the most amazing accomplishment. I never thought I'd be here. I've gone from a size 24 to a 14 in just these few months!"
Sara- 1/8/2021
"This struggle is not an easy one. Gastric sleeve surgery is only a tool but it is so worth it. The results that I saw motivated me to keep going. I've been holding my weight steady for 8 months now. The second photo is of me in Cancun in February 2022."
HW: 220 lbs
SW: 213 lbs
CW: 155 lbs
Anthony- 1/12/2023
"Never did I think I would be able to smile and be happy with my weight again. People say bad things about going to Mexico, well that's because they don't know that where you going is just like you're in another U.S. state. It's safe and it's where dreams do come true !! Thank you for giving me myself back !! Still working on me but I am 67 pounds lighter and it's only been 4 months !!
Angela- 11/28/2020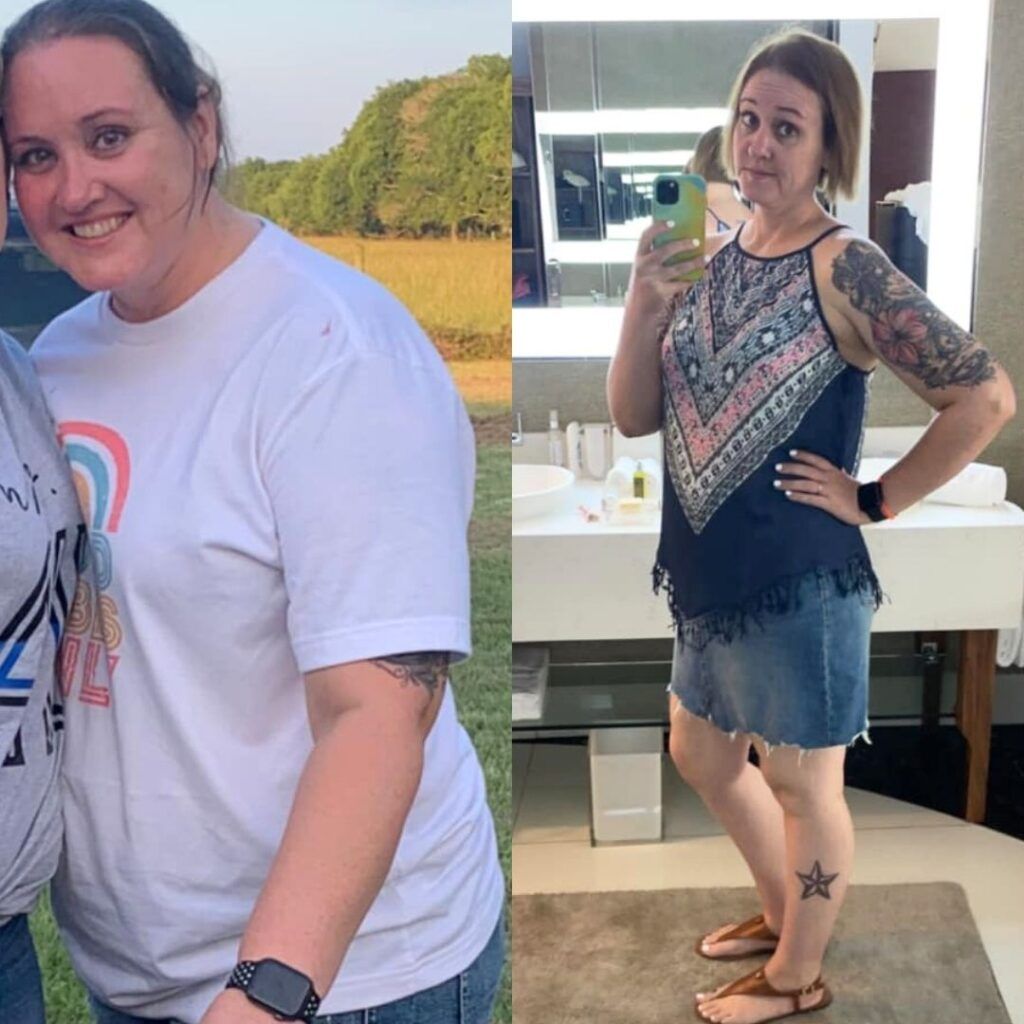 "I still can't get over all the ways this surgery and lifestyle has changed me. Saw it in a post somewhere below this one "treat yourself to health"…well said my loser friend! I'm losing slower but I have my weeks where it isn't as slow as others. 70 lbs down and still going! It's been 6 months post-op and I'm happier than I've ever been. People that know me comment on the change in my happiness and confidence all the time. It's a remarkable change. Choose you my friends
 It's been said here time and time again…I only regret not doing it sooner.
I'm on vacation with a friend in Cabo to celebrate my 40th and fly back home tomorrow. We took this same trip last August and I was MISERABLE. Overweight, hot, uncomfortable in shorts, couldn't handle all the walking and stairs we climbed to our resort. Not to mention the discomfort in flying squeezed between people in the plane seats. Not this time. Not only am I comfortable in shorts all the time, but we've walked a stupid amount of steps and I wore skirts and dresses, AND….a swimsuit without shorts and a tee shirt over it!! 
I just can't say enough how great of a decision this was and how happy I went through with it. Here's my pic, 1 year ago vs 1 day ago. ALWAYS CHOOSE YOU!!! "
Valerie- 10/9/2021
"121 pounds GONE!!! The only thing I regret is not having it done sooner! Dr. Montalvo was great! A few things I've learned along the way. Give yourself grace!! You didn't gain the weight overnight. You WILL have stalls. But for me, when the scale wasn't moving I was steadily losing inches. Take the before pics for comparison when you feel like you aren't making progress because you definitely are!!! Don't deprive yourself of the things you love. EVERYTHING in moderation. Mental hunger -vs- physical hunger is a Queen
!! It's YOUR journey!! Don't compare it to others."